PACEDm.com
Zoobuh is at it, again. Recently, in the matter of Zoobuh, Inc. v. Savicom, Inc. (D. Utah), a federal district court found that the plaintiff successfully pled that it was harmed by the defendant's conduct and, therefore, possessed standing to bring a claim under the CAN-SPAM Act. This is noteworthy because the alleged harm is …
Brought to you by Pace Lattin
PACEDm.com
The FTC's efforts to police the payment processing industry continue… An individual and his payment processing company have agreed to settle FTC charges that they repeatedly violated a 2009 court order issued against them. The settlement permanently bans both from engaging in, and assisting others with, payment processing, and includes a $1.8 million contempt judgment against them. …
Brought to you by Pace Lattin
We recently held an AWeber customer workshop in Orlando, Florida. While we were there, one of the most frequently asked questions we received wasn't about deliverability or what to write in your emails or the most popular integrations.
Nope. It had to do with emojis. Or, more specifically, "How do you add an emoji to an email subject line?"
Luckily, we had an easy answer: There's a super quick keyboard shortcut that allows you to add your favorite teeny-tiny hearts 💚, smiley faces 😆, and clapping hands 👏🏽 to your subject lines (or even inside your email copy). Follow the steps below to try it on your Mac or PC.
How to add emojis to an email subject line on a Mac
Keyboard shortcut: CTRL + CMD + Space
Step 1: Open your email draft inside your AWeber account.
Step 2: Place your cursor where you'd like the emoji to appear in your subject line.
Step 3: Hit the three buttons of the keyboard shortcut (Control + Command + Space bar) down at once. An emoji window will pop up.
Step 4: Click on an emoji to insert it into your subject line.
(Don't have an AWeber account yet? Sign up today to build your list, create an email, and analyze your results! Your first 30 days are completely free.)
How to add emojis to an email subject line on a PC

*Keyboard shortcut: Win + . or Win + ;
Step 1: Open your email draft inside your AWeber account.
Step 2: Place your cursor where you'd like the emoji to appear in your subject line.
Step 3: Hit the two buttons of the keyboard shortcut (Windows key + . (period) or Windows key + ; (semicolon)) down at once. An emoji window will pop up.
Step 4: Click on an emoji to insert it into your subject line.
*This shortcut is available on Windows 10. (Window 10's touch keyboard also has a built-in emoji keyboard. Just hit the smiley face to the left of the space bar to activate it.)
Pro tips for using the emoji keyboard
The emojis you've used most recently will be stored at the top of the window.
Scroll through the emoji categories along the bottom of the window. (Categories: smileys and people, animals and nature, food and drink, activity, travel and places, objects, symbols, flags, and symbols.)
Use the magnifying glass to easily search for emojis instead of scrolling through them all.
In Windows, you can change the skin tone in the upper righthand corner in the "people" emoji category. It looks like a square patch.
On a Mac, you can change the skin tone in the "people" emoji category by clicking on an emoji. A small bar will appear with multiple options.
Enter as many emojis as you'd like into your subject line. Once you are done, you can close the pop up window by hitting the Esc key, or pressing the "X" at the top left corner on a Mac and the "X" at the top right corner on a PC.
Should you use emojis in your email subject lines?
We wanted to find out. That's why we recently analyzed 1,000 emails from 100 of today's top marketers. The result: 6.9% of subject lines included emojis.
While that's a small percentage, using emojis could increase your open rates, according to Mark Asquith, marketing expert and founder of Rebel Base Media. (Asquith was also one of the 100 top marketers whose emails we included in our research.)
"A well-placed smiley, timer, or contextual emoji used alongside a well-thought-out subject line will really make your message stand out within someone's already very busy inbox," said Asquith, who frequently uses emojis in his own subject lines.
When it comes to your own subject lines, our advice is to test, test, test.
Set up an A/B test of two emails — one that uses an emoji in the subject line, and one that doesn't — and see which version your subscribers prefers. This can help you optimize your open rates in the future.
Related: Why You Need to Split Test Your Emails
AWeber lets you A/B test more than just subject lines, too. Our testing tools allows you to test almost everything, like send times, copy, templates, buttons, images, and more! Try a free 30-day trial of AWeber and you can start split testing today!
The post How to Quickly Add Emojis to Your Email Subject Line 🎉 appeared first on Email Marketing Tips.
What company immediately pops into your mind when you see this image?
Coca-Cola. And that's thanks to great branding. Even if Coca-Cola doesn't show their logo in an advertisement, you still know it's them. And you associate certain feelings and emotions with their branding.
When you successfully brand your own company, you build trust with your audience, become recognizable, and stand out. And since billions of emails hit the inbox every day, your email marketing needs to stand out.
Howard Schultz, the CEO of Starbucks, says, "Great companies that build an enduring brand have an emotional relationship with customers that has no barrier. And that emotional relationship is on the most important characteristic, which is trust. "
Here's how to brand your business and email marketing.
What is branding?

Your brand is your business' personality. You define your branding by how you design or talk about parts of your business, like your:
product
audience
logo
colors
messaging
perception
Great branding is consistent. Every time your audience hears, sees, or buys from you, they should recognize your brand.
Step 1: Create your mission statement.
Your mission statement tells the world what your business does and why it's important. It will give you more insight about what type of customers you want to attract and will set the tone for how you speak to them.
To create a mission statement, think about how your product or service can positively transform your audience's life. How do you want your audience to feel or what problems will you solve for them? Your statement should include aspirational language that speaks to your overall goal.
Sweetgreen states their mission clearly. They talk about what they strive to do for their customers (connecting people to real food) and why they want to do so (to inspire healthier communities).
Step 2: Research what other brands do.
Research companies you admire or aspire to be like. Identify what draws you toward their design, product, or voice and write down your observations.
You might jot down:
the fonts they use
their color palette
what types of photos they use
how they describe themselves on their about page
Step 3: Identify what makes you unique.
You're most likely not the only company in your space. So it's pivotal to communicate this to your audience. To find out what makes you unique, ask yourself:
How are you different from everyone else?
Do you serve a niche audience?
Do you help your local community?
Do you have great customer service?
Are you the first in your space?
Why should your audience look to you and not other brands?
Patagonia sets themselves apart from other clothing brands by talking about their superior standards. One of their core values is "Build the best product." And their jackets meet their strict "H2No(R) Performance Standard." Their high standards set them apart from other retailers and show how much they care about the consumer and their product
Related: How to Pinpoint Your 'Hook.' Find Your Unique Selling Proposition in 6 Simple Steps
Step 4: Be consistent with typography.
Although it may seem unimportant, typography — or a specific set of fonts — is essential to a stand-out brand. Typography helps your customers identify your company at a glance, and it says a lot about who you are.
For example, Sweetgreen uses simple, rounded letters, which convey friendliness and openness, as opposed to a sharper font with harsher, straighter lines. The simple, rounded font works well with their mission statement: "To inspire healthier communities by connecting people to real food."
When choosing a typeface, select fonts which are easy to read at any size and with long or short paragraphs and sentences.
Only select 1 to 3 total fonts to use across your brand, and choose a primary font that you'll use 85% to 90% of the time.
For example, Nike does a great job of consistently using one font on their homepage. To highlight the most important text, Nike displays headlines in bold, large, capitalized letters. They display sub-headlines, which are less important, in unbolded, smaller, sentence-case type. This is called design hierarchy, and it helps you find the most important text on a page at a glance.
Be sure to define font styles for the following things:
Body copy (text that is standard on all paragraphs)

This text should be easy to read at a smaller size.

Headline copy (text that describes what you are about to read in the paragraph below)

This font size should be larger and most likely bolder so that it stands out.

Button or links

Don't think too hard about this one. Your buttons should be simple. They should be either text over top of a color box or underlined text of a certain color to indicate that you should click. Setting a standard for these will help create consistency throughout all of your web marketing materials.
Pro tip: Not sure how to choose your fonts? If you already have a website and logo, you should have a dominant font already. Reuse it on all your marketing materials. If you don't have either, read this article from Canva to learn how to choose the right fonts.
Step 5: Choose colors for your brand.
Color theory is the science behind color and how it can affect your audience's choices. Your colors should look good and express your brand's personality.
If you're new to branding and color theory, I suggest reading this article by 99 designs to get more insight on how to choose colors that express the right feelings
If you already have brand colors, don't reinvent the wheel. Use the colors you've already chosen.
You should start by examining your logo. What colors are in it and what colors will complement it?
Related: How to Choose Colors That Work Together
Spotify's colors are limited, but also iconic. When you see this specific green combined with black or white you can easily identify the Spotify brand
You can also use the colors from other marketing content to guide your color choices, like your:
emails
website
landing pages
mailers
product packaging
For example, if you are using black or gray for all text on your website, use the sames colors in your email text.
How to easily identify colors
For web content, you can identify colors by their hexadecimal color (or hex code), which will contain a hashtag followed by a combination of letters and/or numbers.
Pro tip: To identify a color's hex code, you can use this HTML Color Picker tool.
In AWeber and many software platforms, you can enter your custom hex code to display your exact brand colors. Below, the hex code #FFFFFF is used to display white text.
For print, you can define a color by its CMYK, or Cyan, Magenta, Yellow, and Black, values.
Be sure to define colors for the following things:
Body copy

This should be a shade of black or dark gray so that it is easy to read on most color backgrounds.

Headline Copy
Background colors

I suggest using white in most cases so that your pages, emails, or printed items are easy to read. If you need to add color, neutrals like light gray or tan are typical as well.

Button or link color

This should always stand out from the rest of the palate to attract the viewer to take an action.
This article by OptinMonster gives you some insight on what the best colors are for "calls to action" or buttons
Step 6: Choose a photography style.
Take cues from some of the inspirational brands you identified in step 2. What kind of photos do they use? Analyze how their photos appear using the follow criteria:
Lighting

Are they outside or inside?

Composition

Are the photos overhead or looking straight on?
Are they centered or off center?
Is there motion or are they still?
Is it close up and abstract or far away and full picture?

Subject matter

Do the images consist of people or still life?

Coloring

Are the photos black and white?
Is there some sort of filter or consistent coloring that make them all feel the same?
Pro tip: Don't have a photographer or nice camera? Here's How to Create Amazing Photos on Zero Budget
LinkedIn does a great job of using a consistent photography style. Within the LinkedIn style guide, they speak to how they represent different parts of their marketing.
When they show photography of their app, they use images of a phone laying flat among everyday objects that "represent human touch," (a.k.a. It should look like a person left the objects there.).
When they show people working and collaborating, they use images of people in candid moments.
Document your decisions.
Now, write down everything you learned and guidelines for how you portray your brand. The best way you can start to implement these ideas is keeping a document that states all of your findings so that you can always reference it when you go to create something new.
Create branded emails in minutes with AWeber's Drag and Drop Editor and 700+ templates. Start your free trial today.
The post How to Brand Your Business in 6 Steps appeared first on Email Marketing Tips.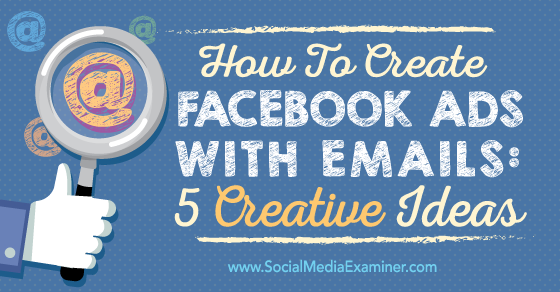 Do you have an email list? Are you looking for creative ways to use Facebook ads? With Facebook custom audiences, you can reach your email subscribers with relevant Facebook ads. In this article I'll share five ways to target your email subscribers with Facebook ads. #1: Serve Ads to All Email Subscribers Since it requires […]
This post How to Create Facebook Ads With Emails: 5 Creative Ideas first appeared on Social Media Examiner.
Social Media Examiner – Your Guide to the Social Media Jungle
Luxury Daily today – How Maserati was able to generate 21K leads through Facebook targeting; Europe holds opportunities for cross-border ecommerce.
Today in mobile marketing – Samsung's new S8 to adopt facial recognition for payments; Uber tells judge it will seek to have Waymo case go to arbitration; WhatsApp, Telegram flaws left accounts vulnerable to hackers; Gamer's death pushes risks of live streaming into view.
I check out the new limited edition Porsche 911 GT3 Touring at this week's South OC Cars and Coffee. Take all the racing parts of the Porsche GT3, remove the big wing and you have the GT3 Touring. A race ready 911 that looks like every other road going 911! In addition to the 911 Touring, I check out a […]
No one can argue how important it is to have the right content marketing strategy when blogging. The art of content marketing is changing the way people engage with a website. Through content you're able to provide value, and sell products to your readers which helps achieve your bottom line Profit. However, many new bloggers fail to incorporate content marketing […]
I was listening to a podcast the other day, and the host asked the guest an interesting question: "What business beliefs did you strongly hold before, but you have since changed your mind about?" This is a powerful question because shows how someone can adapt and evolve. I always think it's dumb when people brag […]
The post Some Things I've Changed My Mind About in Business appeared first on CharlesNgo.com.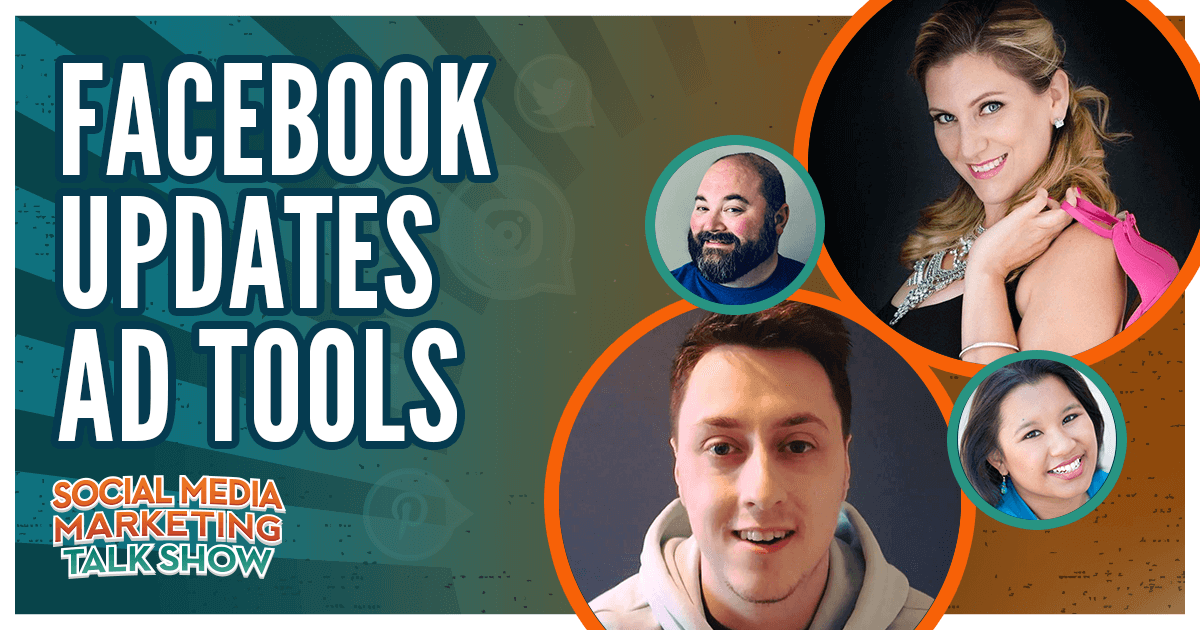 Welcome to this week's edition of the Social Media Marketing Talk Show, a news show for marketers who want to stay on the leading edge of social media. On this week's Social Media Marketing Talk Show, we explore Facebook Ads Manager updates, new ad bidding strategies, and inventory filters with special guests Charlie Lawrance and Amanda […]
The post Facebook Updates Advertising Tools appeared first on Social Media Marketing | Social Media Examiner.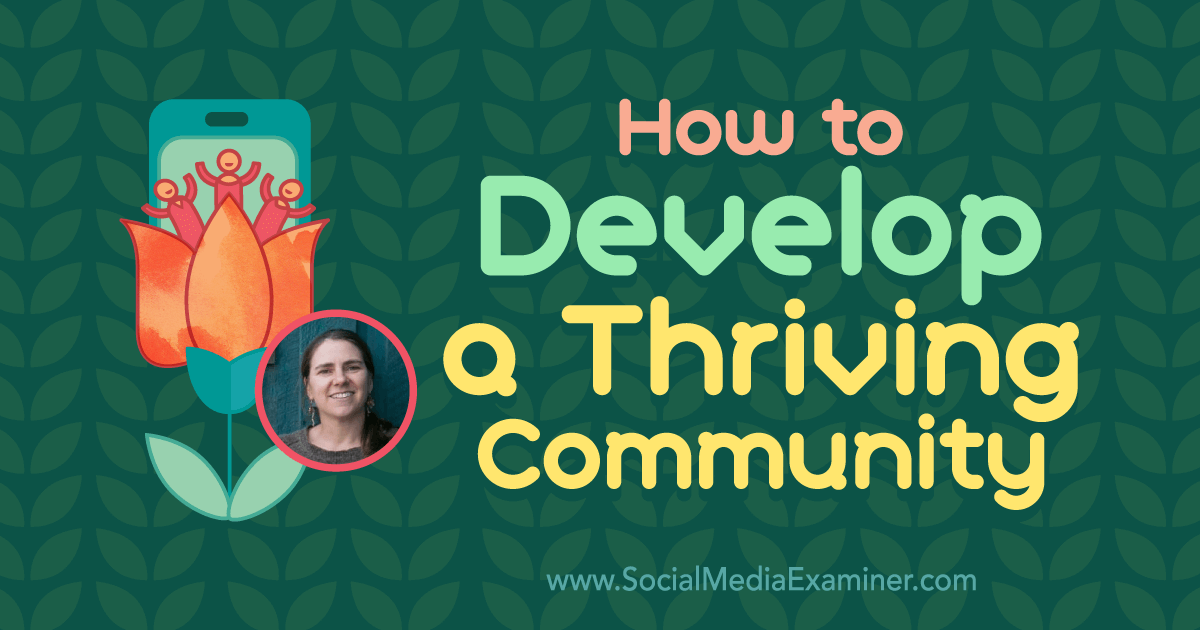 Is community important to your business? Wondering where you should build your community? To explore how to develop a thriving community beyond Facebook Groups, I interview Cate Stillman. Cate is podcaster, blogger, and author of the book Body Thrive. She's also an expert in developing communities. Cate shares tips for developing a brand that incorporates […]
The post How to Develop a Thriving Community appeared first on Social Media Marketing | Social Media Examiner.