PACEDm.com
Vegas based social media marketing company Crown Siren is now claiming that Facebook mislead advertisers as early as 2015 about video metrics and then did everything they could to hide the truth from advertisers. The group dubs itself LLE One and includes Las Vegas-based social media firm Crowd Siren and Social Media Models as well …
Brought to you by Pace Lattin
PACEDm.com
In January 2018, the Commodity Future Trading Commission initiated legal action against My Big Coin Pay, Inc. MGC is the creator of the My Big Coin virtual currency. The CFTC alleged that MBC engaged in fraudulent virtual currency practices by making a number of false claims in violation of, without limitation, the Commodity Exchange Act. …
Brought to you by Pace Lattin
You can set up an email split test in 1 minute that could nearly double your click-through rates and website traffic.
Sound too good to be true? It's not. Because that's exactly what happened when Light Stalking, a photography sharing community, split test their subject lines. In this post, discover the simple change that increased their website traffic from an email by 83%.
The subject line split test
Every weekend, Light Stalking hosts a photography challenge around a particular theme. People can post a photograph that aligns with the theme and share their feedback on other's photos.
Rob Wood, the founder of Light Stalking, relies on email to drive traffic to these weekend challenges. That's why Wood decided to run an email split test on the subject line of his recent weekly challenge email, which asked people to submit a photo of a silhouette. "I was trying to get more opens, more reads, and potentially more traffic," he said.
Related: How to Create Amazing Photos for Your Emails on Zero Budget
For his split test, he created two emails in AWeber. Each message used the same email content but with different subject lines. Wood wanted to find out whether a short subject line that mentioned the topic of the challenge would win against a subject line that was longer and announced that the next weekly challenge was live.
For email 1, Wood used a descriptive, straightforward subject line: "Weekly Challenge is Live!"
For email 2, he wrote a short subject line that hinted at the topic of the challenge: "Silhouettes."
Related: 6 Email Split Tests You Can Set Up in 1 Minute
Wood set up his split test so that 5% of the subscribers on his email list received email 1. And 5% of his subscribers received email 2. He waited a day to see which email performed better. Then, he sent the winning email to the remaining 90% of his subscribers.
Wood hoped this would maximize his engagement.
Pro tip: In AWeber, you can customize what percentage of your list receives each email in your split test. You can also test up to 3 emails at a time! (Want to try AWeber's split test feature? Create a free trial account now.)
The split test results
The subject line "Silhouettes" won! It got 10% more opens than the email with the subject line "Weekly Challenge is Live!" It also earned an 83% higher click-through rate. This drove nearly double the number of website visitors compared to the email with a longer, more descriptive subject line.
When Wood sent the winning email to the remaining 90% of his email list, he was able to get an above average click-through rate. This drove more people to the Light Stalking community and increased forum engagement.
"This split testing feature is great. It will have a noticeable impact on traffic to my site from newsletters," Wood said.
The takeaway?
Boosting your open rates by even a small amount can have a huge impact on your click-through rates and website traffic. To see how your own subscribers respond, try testing a short subject line that's less descriptive against a longer, more descriptive subject line.
Not sure how to set up your own email split test? Download our free guide to email split tests. You'll learn everything you need to know to run successful split tests.
The post This Subject Line Split Test Increased Website Traffic by 83% appeared first on Email Marketing Tips.
In your life, there are big, defining moments that you never forget. Weddings. Heartbreaks. Vacations. Graduations. Homeruns. Births. Funerals.
But then there are smaller, defining moments that stay with you, too. The experiences that transcend your everyday "normal," and bring delight and surprise into your life. They suddenly transform your ordinary into extraordinary. They're memorable, unexpected, and impactful.
It's these smaller moments that AWeber has strived to create daily for our customers over the past 20 years.
It's why we provide an award-winning 24/7 Customer Solutions team at our headquarters in Pennsylvania. They're here to help you succeed around-the-clock.
It's why we send socks, T-shirts, stickers, and hand-written notes to a new group of customers every single month.
It's why our Chief Operating Officer, Sean Cohen (who started as a Customer Solutions Manager at AWeber 17 years ago) still communicates with customers through email or on the phone on a weekly basis.
It's why every new feature we release on our platform is based on extensive, one-on-one customer feedback.
It's why our spam-fighting space explorer mascot, Commander AJ, makes impromptu appearances at conferences to meet up with customers. (Heck, it's why we built a lifesize space explorer mascot to begin with!)
And it's why, after a customer tweeted us saying, "I love AWeber. If you guys made a cereal, I'd eat it every morning," we actually made a brand-new cereal and sent it to him.
"Everything we do has an impact on our customers," says Cohen. "So we shoot for remarkable. Not good. Not great. But remarkable."
Now, to celebrate 20 years of creating remarkable experiences for more than 1 million small businesses, AWeber wants to reward one small business or nonprofit that goes above and beyond for its customers. That's why we're launching the Small Business, Big Impact! Award.
The Small Business, Big Impact! Award contest begins on October 15, 2018, and all entries must be submitted by January 4, 2019 at 11:59 p.m. ET. To enter, click here. Tell us how you already create remarkable experiences for your customers — and how you'd use the $20,000 to make an even bigger impact.
The post Your Small Business or Nonprofit Could Win $20,000! Here's How appeared first on Email Marketing Tips.
I can't think of anything to write.
That's one of the top reasons we hear from customers about why their email marketing went stagnate. They just run out of ideas or topics to write about. So instead of sending a lackluster email, they don't send any at all.
Even pro writers come up with major email block. Ann Handley, co-founder of Marketing Profs and the popular book "Everybody Writes," only sent two emails to her subscribers in 2017. (In fact, the lack of communication was her catalyst behind revamping her entire newsletter strategy this year.)
We never want your email list to go dormant. After all, you put in a ton of work to gather subscribers. Don't leave them hanging. That's why we've gathered 8 brainstorming techniques that will help you create a list of topics for future emails. Never waste time trying to think of a topic when you should be writing!
Quick Notes on Brainstorming

First things first: Let's go over a few quick notes re: brainstorming.
Coming up with ideas for your content is serious, but don't get too caught up on producing the perfect idea right away. If you're too critical, you won't get anything written down. You never know what a random word now could make you think of later. Keep a positive mindset and be open to any and all ideas.
Don't worry too much about following the rules. Brainstorming is all about creativity and finding whatever method works best for you. While one person might do well with a structured brainstorming process, another might thrive with a loose, free-flowing idea session.
The important thing to remember about brainstorming ideas for your email campaigns is that you'll want to stay open-minded throughout your process . . . regardless of what that looks like. Next, let's start looking at a few specific brainstorming techniques you can try to get the ideas flowing.

Brainstorming Techniques for Stellar Email Ideas
Brainstorming Technique #1: Word Association

Start with one or two words related to a broad topic, and write down anything they make you think of. Let your inner editor rest for a bit and just jot down whatever ideas and words come to mind. If you need help, try a tool like Visuwords to get the process going.
Don't overthink things or worry about explaining how the words are related (at least right now.) Instead, let the ideas flow and see what interesting concepts naturally arise.
Image source:
Brainstorming Technique #2: Mind Mapping
This is a similar concept to the word association technique. Start with a word in the middle and draw lines outward to the ideas that word sparks. Mapping helps you visually process your ideas and decide which ones are the strongest.
Image source: CoSchedule
Brainstorming Technique #3: The Medici Effect
If we can figure out how things are connected, sometimes we can borrow solutions or ideas from another field to solve our own problems. Look for parallels around the issues you're facing in different areas — like your personal life or at work.
For example: Did you recently overcome a challenge at work that taught you a lesson or provided some new perspective on an issue? How can you share that experience as a story that may help your audience with their biggest pain point? You might have come to a solution that would make for a brilliant email campaign.
Brainstorming Technique #4: Blind Writing
Just. Don't. Stop. You don't need a plan of attack or an outline for this — just put words on a blank page, no matter what they are. You never know what will spark an idea, and writing anything is the first step to writing something good.
Brainstorming Technique #5: Challenger
Make a list of your assumptions (about your customers, your content, your format, etc.) and then challenge them one by one. You might think you already know the best way to do something, but we don't make progress by never questioning things.
Related: FREE Course: Learn How to Write Better Emails
Brainstorming Technique #6: SWOT Analysis
Create a table to assess the strengths, weaknesses, opportunities, and threats (SWOT) to your current approach to email content. This helps you see your process in a more analytic way and logically decide if there is a more effective way to write, share, and educate.
As you complete your SWOT analysis, be sure to see what your main competitors are doing and make notes on how you may (or may not) be measuring up with your current approach.
Image source:
Brainstorming Technique #7: Turn to Your Readers
Conversations with your subscribers can lead to a treasure trove of email ideas. Ask your subscribers questions and try to find out as much information about them as possible. What do they actually want or need from you? What are their biggest obstacles, goals, or main pain points?
Your subscribers feedback will be immensely valuable to your business. You can use it to write your next email, and other types of content like blog posts, videos, and social media posts. You can also take it a step further by using the feedback to correctly position your product, inspire loyalty, and/or develop all-new products.
Brainstorming Technique #8: Start with the Subject Line
Set a timer for 5 minutes. Then, come up with a list of subject lines that you would absolutely open if they hit your inbox.
These subject lines may spark some all-new content ideas. We use this technique at the start of many of our content planning meetings at AWeber. In fact, some of our most popular stories have come out of this exercise. We keep an updated swipe file of the subject lines — some of which are practical, some of which are outrageous — and browse the list for new blog post or email ideas whenever we need some inspiration.
Related: Your Guide to Writing the World's Best Email Subject Lines
Brilliant Email Ideas, Time After Time
Consistently sending emails is a wonderful way to keep subscribers engaged, but try not to forget that no one wants to open an email that doesn't actually have any new or useful information. Having a constant supply of fresh email ideas keeps you from getting marked as spam and sent to the junk mailbox, never to be opened again.
On a regular basis, brainstorm new topics through these different approaches and keep a swipe file of your best and brightest ideas. You'll never hit a bottleneck in ideas for email campaigns again.
Ready to start sending killer emails to your list? Then sign up for your free 30-day trial of AWeber today.
The post 8 Top Brainstorming Techniques to Help You Write Killer Emails appeared first on Email Marketing Tips.
Luxury Daily today – How Maserati was able to generate 21K leads through Facebook targeting; Europe holds opportunities for cross-border ecommerce.
Today in mobile marketing – Samsung's new S8 to adopt facial recognition for payments; Uber tells judge it will seek to have Waymo case go to arbitration; WhatsApp, Telegram flaws left accounts vulnerable to hackers; Gamer's death pushes risks of live streaming into view.
When I first started publishing content on the Internet nearly 20 years ago, I had no real ambition to make any money at all. It was just a hobby and I'd be thrilled with I'd get a message from just one random stranger. My words were actually reaching real people all around the world and this was an incredible power […]
Domain authority is very important when building an online business especially when you want to generate organic traffic. For those of you NOT aware "domain authority" refers to the entire value of your domain as established over the years looking at such elements like size, age and link building patterns. It's hard to manipulate simply because you are looking at […]
I still remember when I was a kid, if I was unsure about the lyrics of a song and I totally misheard them, there was no real way for me to verify them. So, I'd go about my days and weeks and years, singing along with totally the wrong words. For the longest time, I thought that they were saying […]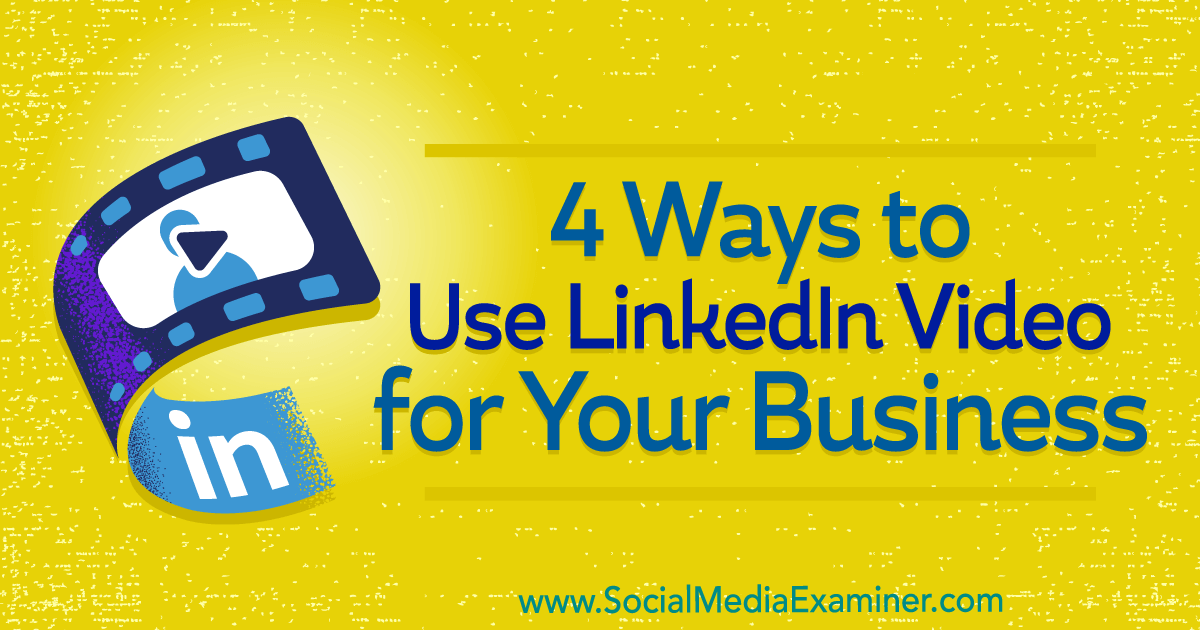 Want to do more with LinkedIn video? Looking for ideas and inspiration for your LinkedIn video marketing? In this article, you'll discover four ways to publish LinkedIn video when you don't know what to talk about. #1: Share Curated Resources With Your Viewers You don't need to share brand-new ideas or concepts to be successful […]
The post 4 Ways to Use LinkedIn Video for Your Business appeared first on Social Media Examiner.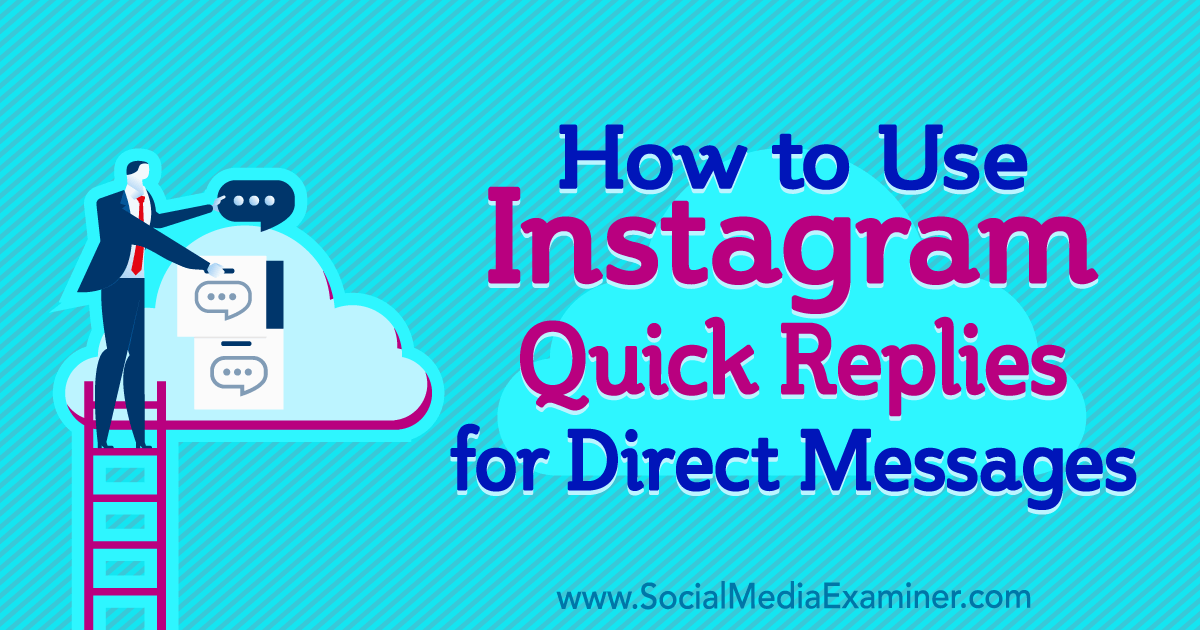 Are you using Instagram Direct Messages to communicate with your audience? Looking for an easy way to provide quick replies to common questions via Direct Messages? In this article, you'll discover how to create multiple Instagram quick replies to your Instagram Direct Messages. What Are Instagram Quick Replies? Instagram has relatively quietly rolled out the […]
The post How to Use Instagram Quick Replies for Direct Messages appeared first on Social Media Examiner.